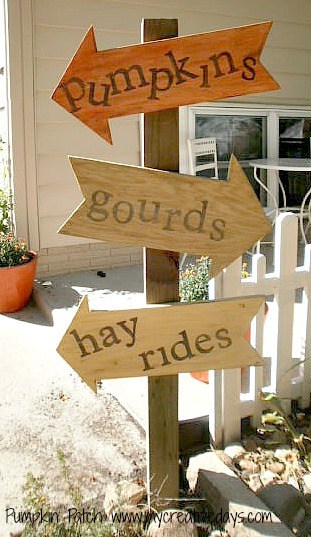 Pumpkin Patch Dream is from our talented blogger friend Lindsay of My Creative Days!  You may not have room for a big pumpkin patch or hay rides but you can make it feel like you do.  Thank you Lindsay for reminding us of how a little whimsy and dreaming can make us feel young again. 
I have always thought it would be so much fun to have a Pumpkin Patch. I picture tons of pumpkins and gourds, hay rides, baked goodies, wagons and hay bales. I have it all pictured in my head and each time fall rolls around, I tell my husband we should own a pumpkin patch. Practical things like the time, money or energy it takes to run a Pumpkin Patch aren't really in my thought process ;-).
This year, I thought I could have a small piece of my Pumpkin Patch dream with a sign in our yard.
I got some inspiration from my pin here.
To make my Pumpkin Patch sign, my husband cut out three wood arrows.
I used my Cricut to cut out the letters for the words "pumpkins", "gourds", and "hay rides". I mixed some black craft paint with a little water so the words looked like they had been stained and not painted.
For the color on the arrows, I watered down yellow, orange and green paints so the signs themselves looked stained. Once the words were dry, I brushed the watered-down paint over the entire arrow.
My husband screwed the arrows to a 4×4 post and we stuck it in our yard.
Now, I need to head out and get some pumpkins, gourds and a few hay bales. Who knows, I might get a few customers with my new Pumpkin Patch sign. I need to be prepared ;-).
Hello! My name is Lindsay. I am mom to Landen and Gabrielle, wife to Matt and blogger at My Creative Days  I love to be creative in my day, my home and with my kids. I am obsessed with old wood, rusty treasures and everything in between. Finding frugal and creative ways to decorate our home, create a fabulous craft or do an activity with the kids is a passion of mine.
Head over to My Creative Days to see more wonderful ideas and be sure to Follow Lindsay!